General description
In finishing process of metal wire production, wire diameter shall be determined by dies hole. Conventional dies are carbide wiring drawing dies. Those have demerits of short lifetime. Our diamond wiring drawing dies have attracted manufacturers' attention because of their long lifetime.Materials in dies hole are mono-crystal or sintered diamonds that are most hardest materials in all materials on the earth. Sintered diamond, also is called as the polycrystalline diamonds, is produced in burning process with metal binder.
Features
There are some kinds of wire drawing dies made by diamond, and the important point that determines coiling efficiency may be mounting method of diamond into base materials.We use the high-level technologies of mounting diamond with super-hard metal, so these dies get the drawing wire length up to 1.5~3.0 time, and dies lifetime up to 3 times in comparison with the other Diamond wire drawing dies.Our sintered Diamond wire drawing dies can be applied to thicker diameter wire, and circularity error can be minimized because of no directivity in crystal.
Using example
Many wire manufacturers have introduced our diamond wire drawing dies as tools in drawing machines.
Typical specifications
Natural Diamond wire drawing dies 0.04~1.50mm
Mono Crystalline Diamond dies 0.10~1.00mm
Polycrystalline Diamond dies 1.0~10.00mm
We can answer all customers demands from hard stainless steel wiring dies to copper wiring dies. e answer the demand of the customer from hard line such as stainless steel wire. We can supply half-completed products, so please let us know.
Nano coating dies
A die which nano-sized diamonds are coated on a Tungsten carbide die.
Using Nano coating dies has the following advantages.
(1): Tool life is 3 to 10 times longer than Tungsten carbide dies.
(2): Reduces manufacturing costs such as die replacement and improves production efficiency.
(3): Material loss during by drawing process is improved.
(4): Improves the surface finish of the cable after being drawing process.
Target wire diameter: φ1.5 to φ50mm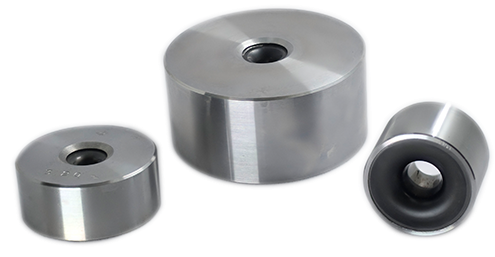 Delivery results
Over 10 customers in the world are using our products.